Private Tour: Cultural Experience in Luang Prabang
Asia » Laos » Luang Prabang » Luang Prabang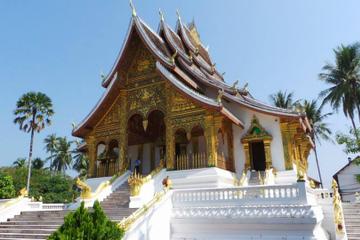 Duration: 8 hours
Departs: Luang Prabang, Laos
Price from USD 137.00
Book Now
Cultural Luang Prabang private tour will take you to experience Almsgiving ceremony and visit morning market, former Royal Palace, Wat Xieng Thong, Wat Visoun, Melon Stupa and Wat Aham. The highlight of the tour is to participate in a unique traditional Baci Lao ceremony at a local family house. The Baci is performed on the occasion of an important event such as weddings, births, or to welcome guests. It is a way to express goodwill and good luck to others.
At 5: 45 am, your guide and driver will pick up you at your hotel in Luang Prabang and take you by a private vehicle. We start our day observing a long line of monks collecting alms's ceremony "the Take Bat", or the Buddhist monks' morning collection of food in Luang Prabang. You can also participate by offering food into the bowls carried by the monks. This daily ceremony is both peaceful and spiritual and gives you a wonderful opportunity to experience an ancient Lao tradition.

Afterwards you can either go back to your hotel for breakfast or go straight to the morning market. It is the morning markets where locals do their shopping and visiting the morning market will allow you to experience the real flavor of the local culture. The morning market in Luang Prabang near the Royal Palace starts early and is over by mid-morning and is lined up along some side streets. Usually butchers and some popular stalls among tourists have tables for their wares, but most of the vendors just set up their products on the floor - rice, fresh vegetables, steamed fish, frogs, and anything else that might be the day's catch. Local vendors consider this style cheap, simple, and effective.

After the morning market, we will stop over the former Royal Palace that is also known as Haw Kham (Closed on Tuesday). The museum is well worth a couple of hours of your time if you want to learn more about Lao history and culture.

Continue to visit Wat Xien Thong, one of the most important temples in Laos as well as the most famous and beautiful temple in the old town dating back to the 16th century. We will also go to Wat Visoun, the Melon Stupa and Wat Aham.

In the early evening, you will have an opportunity to participate in a unique traditional Lao ceremony called Baci at a local family house. Lao believes that every person has 32 spirits that constitute their spiritual essence and Baci is the ritual used to recall any spirits escaped in the body. During the Baci, special flowers and sweets are prepared and they are affected by the participants and a Buddhist mantra is chanted. After the song ended, cotton are linked around the wrist of the participants as they receive an individual blessing.

When the tour is concluded, we will take you back to your hotel in Luang Prabang.
« All Activities