Bike Day Trip from Luang Prabang
Asia » Laos » Luang Prabang » Luang Prabang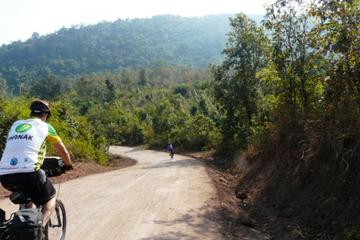 Duration: 8 hours
Departs: Luang Prabang, Laos
Price from USD 94.02
Book Now
Enjoy a fun day trip that takes you beyond Luang Prabang to the serene countryside where you discover the true Laos, rich with traditions and heritage. Cycle along peaceful dirt roads, explore nearby villages, and observe the local way of life along the Mekong River. Friendly locals, stunning temples, and scenic back country roads makes this 8-hour cycling trip ideal for those who would like to explore the unspoilt nature and local life surrounding the beautiful Luang Prabang.
This is a relaxing full-day trip where you will be able to meet and interact with friendly locals, visit stunning temples, taste some traditional, local treats, and absorb the serenity of Laos' countryside.

You will be picked up from your hotel in Luang Prabang at 7:45am. Riding on scenic back country roads, you make your way to the Mekong River where you board a ferry to cross the mighty river to Ban Xeng Mean. Here you'll be sharing the dirt roads with oxen, chickens and the occasional motorbike to the village of Ban Nakham, popular for sugar cane and Kaolam, a local delicacy of sticky rice and beans served in bamboo.

You continue to cycle along farmlands and green paddy fields, and stop at a village famed for their local crafts such as pots, jars and vat. After the visit, you hop right back on the bike and head for lunch of local delicacies in Ban Som. As the weather cools down, you cycle along a shaded forest trail to reach the Khmu village of Ban Boum where you meet with the original inhabitants of Laos, believed to have migrated into the area from China at least 1000 years ago.You continue the journey on a remote dirt road to Ban Jannuau where you watch potters crafting intricate pots and jars before riding back to Luang Prabang.


This fun and gentle 23mi (37km) ride is suitable for anyone, and makes an ideal trip for families and friends! When the tour ends, you will be transferred back to your hotel.

« All Activities